Enquiry Form
Gift Vouchers

Looking for the perfect gift for friends or family? Why not buy them a tailor made Photography Gift Voucher.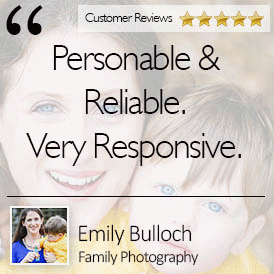 Video

Beautiful video montages are available in a variety of predefined styles which make use of your edited photographs. They are priced at £60 per video file and are made ready within 48 hours.
Photo Editing

Post production is available to treat images in order to enhance their colour, clean them up, colour balance or air brush in Photoshop. Prices start from £3 for basic editing and can go up to £10.
Buy ALL Photos

Buy all the photos from your photo shoot sent to you on a DVD in the post and also have the online gallery unlocked, starting from just £60.
Terms & Conditions
I offer a minimal amount of post production to all photographs when and where needed. However a more detailed amount of editing can be ordered at an additional cost. Please note that prices shown here do not reflect any detailed worked.
All photographs will carry my logo, watermarked into them and may be removed by purchasing full rights to the photograph for an additional £1 per photo or as discussed with client.
I reserve the right to use any of the photographs that I take for the promotion of my photography business. This includes but is not limited to, publishing them on my websites. By booking and using my services you automatically agree to this. If you would like your photograph removed, please send me an email stating so and it will be swiftly removed.
All photos and videos will remain the copyright of the photographer until and unless specified and agreed to. Full payment must be received before final media files can be released or on a date specified and agreed to.